It's a crazy time in real estate. In my fifteen years as a Realtor I have never seen a better market for sellers. Houses with the best prices and good condition are seeing very short time on the market, and often have multiple bids fighting for them. It's a good time to be a Realtor AND a seller!
On the other side, it's also a fantastic time to be a buyer. Interest rates are below 4% (with good credit) so money is on sale. It's one of those rare times when both the sellers and buyers are winning!
With that said, I wanted to present you with some data about home sales in the last 30 days for the Garner area (Wake & Johnston counties) and point out some facts.
The first thing I wanted to point out if you take a look a my chart below, are the highlighted purple areas. There are currently 26 homes being resold between $100 – 200k, whereas there are only two new construction homes in the same price range. Very little new construction competition in this sector. If you have a house you want to sell in this price range, strike while the iron is hot.
The next item is highlighted in green. Take note that in the $200 – $300k price range, the average days on market for a resale home is only 35 days while new construction is taking 121 days on average to sell. This is good stuff!
If you have any questions about the data below, please let me know.
If you would like a free evaluation on your home, please click here to provide me with a little data, and I'll gladly crunch the numbers for you!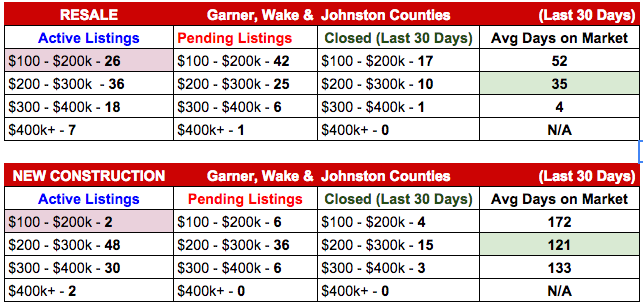 Written by:

Cassondra Liles, Realtor | 919.523.5065 | www.TheKeyTeam.com